New sonic textures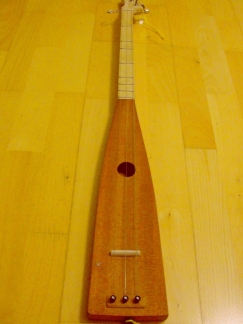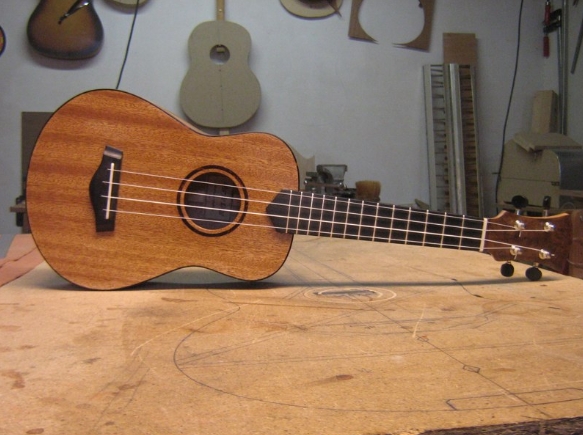 In the eternal quest for new sonic textures, I teamed up with the one and only
Gary "Wurzle" Cogg
, prolific purveyor of handmade acoustic instruments, who graciously let me go to town on the prototype of his Pickin' Pedal: the three-string instrument that you see on the right. The fret pattern is inspired by a mountain dulcimer, and it's usually tuned in D-A-D or similar.
Its sound is strong in the high-mid frequencies and blends beautifully with Gary's handmade concert ukulele (the one on the left - photo taken in Gary's workshop) that I have been using - a stellar piece of work, with a beautifully balanced low-mid frequency body.
You can hear the two instruments combine on the Poetry In Motion track and also on Grace, together with a larger acoustic ensemble. The concert ukulele has a solo on the Symmetric Circles track, featuring the usual no-effects approach of recording two identical takes of the same instrumental part into the Left and Right stereo channels respectively.
Musicians based in Berlin should make a point of dropping in on Gary's workshop. It's one of those places you leave with a warm heart and a knowing smile at the fact that you have just witnessed something truly special. It's at
Schinkestrasse 3
, right next to the Schönhauser Allee station.
A further chapter in dynamic range
Jasmine Brunch devotees (if there is such a thing) will already have noted my mild obsession with dynamic range in audio engineering - see for instance the
notes on the "4" album
. In this regard, the "Mews" album introduces a slightly different spin: the tracks overall are higher in loudness since most tracks feature either (a) instruments with a naturally lower dynamic range, e.g. the accordion bass, or (b) a creative approach to recording techniques, e.g. recording one of the acoustic guitar parts less than an inch away from the microphone with extremely gentle picking, leading to longer decay times relative to the peak of the acoustic signal. As a result, it was possible to retain the full dynamic range of all other instruments while giving the overall mix sufficient loudness.
Easter egg
Alongside the usual musical subtlies that are just a little too subtle for people to realise, I wove a fairly obvious Discrete Shepard Scale into one of the tracks and will award a prize to the first listener to get his nerd on and spot it. Prize ideas include a pack of smokes or a bottle of wine or a home-cooked supper, depending on who wins.
Muse